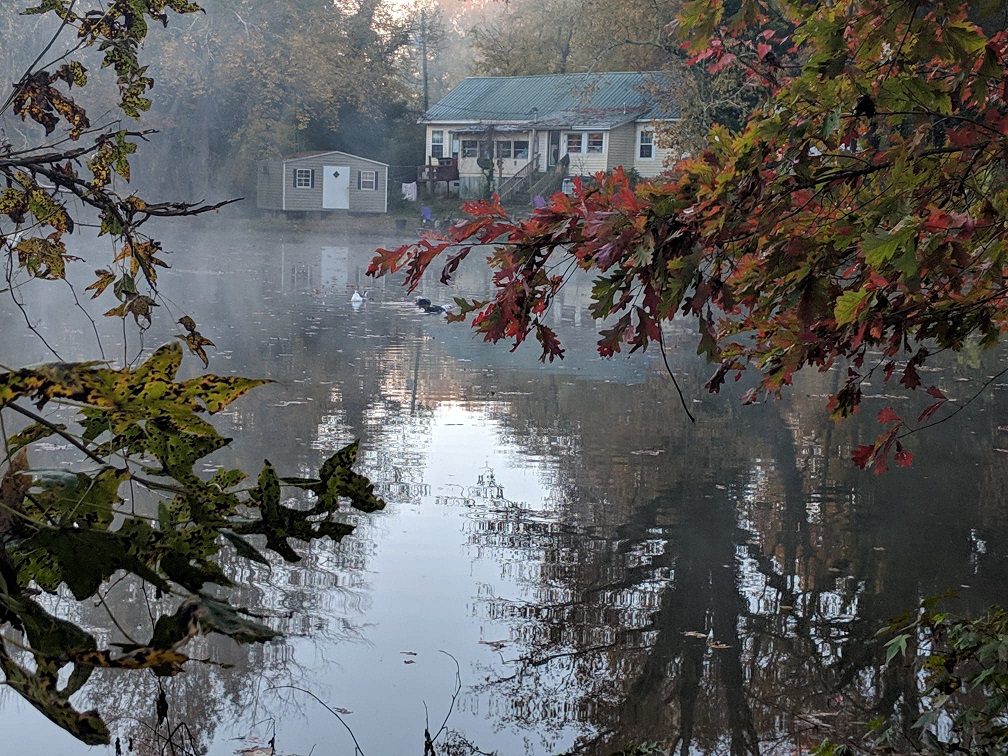 Winter is coming…even here in Georgia. Leaves are falling and so are the temperatures. We have had so much wind and freezing temps that I can't help but think that there is snow in our future. So here on the Big Bear Homestead, we are taking a lot of measures to prepare for just that.  
Normally our temps are not low enough to worry about animals smothering each other to stay warm. However, we have had a few winters in the past where that happened. We have adjusted a few things this year applying what we have learned from our loss in the past. We wanted to share them with you, in case you haven't thought about them. And if there is anything we haven't mentioned share with us in the comments!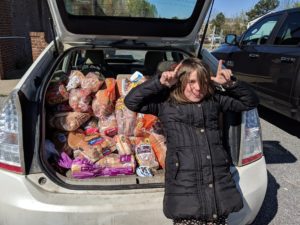 One thing to keep in mind is how animals stay warm. They use their food to convert into energy and to store fat. If your animals are lean before the winter, they will need more food to help them store energy to stay warm. So, the first thing we did, was to change the animals' food rations. Since money is tight this year, we had to be creative. Rather than give them more protein (feed), we supplemented the protein with more carbohydrates (bread from the discount bread store). Carbohydrates convert into energy which helps keep the animal warm.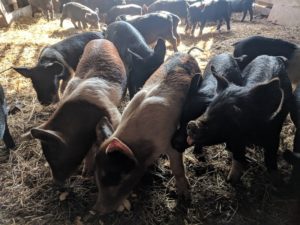 Another way to help the animals stay warm, is to provide them a shelter and warm bedding to insulate them from the cold ground. Again, since money is tight, Jason and the kids went to the front pasture of over grown grass and cut up hay for bedding.  We also had Blaze convert some of the old calf houses into a windbreak and shelter. We put bedding in all of the housing for all of the animals: Chickens, ducks, and the many pens of pigs. The other thing that works for us, is as the animals defecate on the bedding, the straw will break down (compost). The process of composting provides heat as well. Every so often, we will check on the bedding. As it gets wet or dirty, we will layer more bedding on top. With these two things in place, we are hoping that our animals will stay warm. 
Now that the animals are covered, what are we doing here to stay warm? Well, we are animals too right? So, a lot of the same things apply. We are eating heavier foods, rich in carbohydrates like rice, pastas and breads. We have swapped out the light cotton sheets for flannel. Jackets have gone from light to heavy. Crochet projects have gone from decoration and household items to blankets, slipper socks and mittens. Cold tea swapped for hot tea, coffee and cocoa.  
But besides the obvious, there are a few things that we are doing differently in the house, to use energy wisely.  We are steadily working on getting our wood stove installed. But until that is done, we are finding creative ways to keep our living spaces warm. We have closed off the dining room and foyer since they both have windows and doors that allow a draft. We have two kerosene heaters to heat the house, but only one is necessary right now. We are also cooking a lot of stock and soups. We have natural gas, so when we are cooking, it naturally heats the house. Doors have been closed to closets and bedrooms to keep the warmth in our main living space. Around dinner time, we move the heater to the back part of the house and open bedroom doors.
Surprisingly, it doesn't take long to warm up those areas. 
This year has been rough for a lot of people we know. One thing we have learned so far is that when you are faced with a shortage (food, bedding, clothing, feed, whatever), there are two approaches. Most will just go out and buy something to fix the shortage (we use to be in this group). The rest will find a solution from what they already have (we have learned to be in this group). For years, I have always told my family, there is no can't in our vocabulary. We just haven't figured it out yet. I am proud of our family coming together and figuring it out!  
So, brace yourselves guys, 2018 may have been rough, but 2019 is gonna be a year of amazing growth and execution of our personal and farm goals. We hope you will join us on this exciting adventure! 
What things are y'all doing to keep your animals (and yourselves) warm? Any goals for 2019 you want to accomplish?